International Door Closers
Since 1968, International Door Closers Inc. has been a leading source for aluminum and glass storefront and builders/contract hardware.
We maintain offices and distribution facilities in both Anaheim, CA and in Nashville, TN (servicing the West and East). At this time, our business is divided between Aluminum and Glass Storefront and Builders/Contract Hardware. Export sales are an important part of our business and we encourage inquiries from outside the United States.
Over the years, we have developed strong 'partnerships' with many of our large customers. This includes primary storefront O.E.M.'s, but also encompasses many of our large distributors as well. One thing remains constant: we furnish products manufactured with a proven history of quality and dependability; our pricing structure is reasonable and competitive; we are responsible in maintaining inventories to ship same day service; and we do not engage in up and down, unreliable pricing strategies. This is our strength…this is our success. This is what we have to sell to you, our customer.

International Door Closers, Inc.
1920 Air Lane Drive, Nashville, TN 37210
Tel: (615) 885-7060 (800) 225-6737
Fax: (615) 885-0903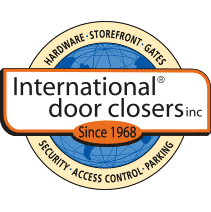 Products
• DOOR CLOSERS
• AUTOMATIC DOOR CLOSERS
• EXIT DEVICES
• AUTOMATIC DOORS
• CYLINDRICAL LOCKSETS, DEADBOLTS, STOREFRONT LOCKS FLUSH BOLTS & COORDINATORS
• ROLLER LATCHES, DOOR HANDLES, PADDLE HANDLES
• PIVOTS
• HINGES & EDGE GUARDS
• FLUSH BOLTS & COORDINATORS
• DOOR STOPS & HOLDERS, THRESHOLDS & GASKETING
• PUSH PLATES & SWITCHES
• TRANSMITTERS, RECEIVERS & BOLLARDS
• KEY PADS & CARD READERS
• ANNUNCIATORS
• STRIKES, POWER BOLTS AND CABINET LOCK
• MAG LOCKS
• SENSORS
• POWER SUPPLIES, TRANSFORMER & POWER TRANSFER