All Metal Specialties, Inc.

All Metal Specialties is an aluminum door manufacturer, cladder and custom architectural fabricator. Our doors are fabricated from custom made aluminum extrusions, consisting of (2) side stiles, (1) top and (1) bottom rail usually surrounding a large glass panel. Mid-rails and divided lites are an option. Our doors can be custom sized and made to accept any hardware available in the industry.
Most often after fabrication, our doors are cladded with either stainless steel, brass or bronze. Cladding is a process of applying one material over another to form a skin. We normally clad our doors with a very thin sheet (1/32″ thick). The main reason for cladding in our industry is to give the cladded material an enhanced visual appeal. Satin or polished stainless steel, brass and bronze all produce a beautiful finish.
Cutting, fitting and applying the cladding takes a craftsman like skill. The end product is the direct result of the care taken in the cladding process. Our cladding is applied to our aluminum doors with a 3M High Performance double sided adhesive tape. This tape is suited to handle thermal adjustments and varying conditions. All said, cladding is an economical way to turn an aluminum door or window into something spectacular!
Beautifully finished metal surfaces reflect our customer's pride in their place of business. All Metal Specialties has the capability to fulfill their project expectations, Our quality is number one at every stop of the process. With custom job specifications required on most projects, All Metal is the solution. Versatility in engineering fabrication and finishing set us apart in the industry. Our employees have many years of experience and are true experts in their field.
All Metal Specialties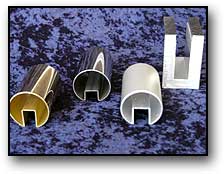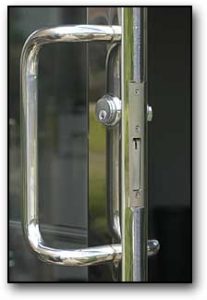 300 Livingston Ave
Jamestown, NY 14701
(716) 664-6009 phone
(800) 766-9141 toll free
(716) 483-0575 fax