S250 Series:
WinTech's most economical aluminum commercial window system. The S250 is a 2 ½" thermally broken frame and is available in a full range of options including Fixed, Single Hung, Slider, Projected and Casement. Performance values range from LC to CW and endless glass and finish possibilities When you need a great performing window but want to stay within your budget look no further…The S250 is just what you need.
325 Series:
When performance really matters the WinTech 325 window system lives up to the build. The 325 series is a 3 ¼" frame depth thermally broken aluminum system that offers a commercial window rating of CW 70 or better. WinTech's 325 system allows you to meet all the speciation of a 4" system but stay within the budget of a 3 ¼". Available options are Fixed, Projected and Casement with endless paint and finish options.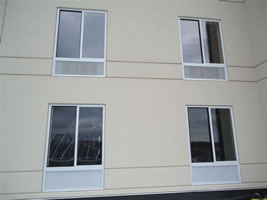 Have you ever heard the question; why should I choose vinyl over fiberglass?
WinTech is here to answer that question with the CR70 commercial rated system.
In today's market we all know the importance of energy efficient systems and u values. WinTech CR70 is commercially tested and rated with u-values as low as .29. In addition to great rating the CR70 is constructed with fusion welded corners to stop any air from penetrating the system giving a tight seal and better performance. With no cracking or chipping along with no need to ever paint makes the CR70 the best maintenance free option on the market.